Technique
Construction techniques
Stitch and glue - Very popular method for homebuilding, suitable even for larger cabin boats. It allows you to skip building a complex mold or strongback. You make the side panels of the boat, stitch them together with wire, then reinforce the corners with epoxy fillets and fiberglass. Lightweight and strong.
Skin-on-frame - Far and away the most lightweight construction method, and is supposed to be stronger than you'd expect. Seems great for canoes, kayaks, rowboats, possibly a small sailboat. Looks cool too. It uses either steam-bent ribs or a series of frames running athwart-ship, holding longitudinal stringers to form a skeleton. Then a nylon skin is stretched over it and sealed with epoxy.
Strip building - Classic method for showroom-level wooden canoes, also sometimes used with a frame for sailboats. Capable of elaborate smooth curves. Many narrow strips of wood (typically cedar) are affixed to the frames. These days people fiberglass over that and then pull the frames out, making this method pretty lightweight.
Clinker, lapstrake - Classic "wooden boat" look with overhanging laps. A bit heavier and more complex to build than other methods. Some modern techniques help with that, such as "glued lapstrake" or "lap stitch", which both allow you to remove the frames afterwards. This method is supposed to be more woodworking and less fiberglass/resin work.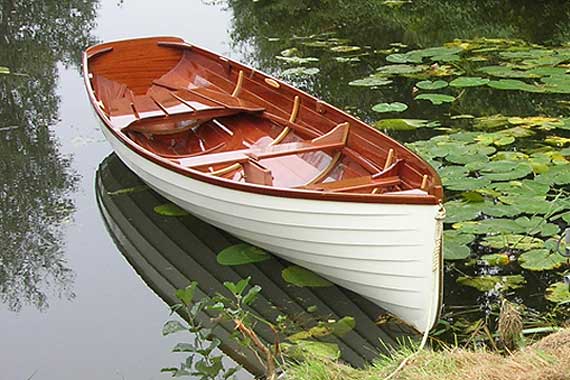 Reading
---
Designs I Like
Canoes etcetera
Small Sailboats
More involved sailboats
Designers
Others
---
Cool Stuff
There are a few "raid-style" regattas where people do multi-day expedition races in small, often homemade boats. The Everglades Challenge is a race from Tampa Bay to Key Largo. There's also a "Texas 200" that seems fun.
There's a one-design class of sailboat called the Puddle Duck Racer. They do races and things - looks child-oriented. It's gotta be the easiest, fastest way to build a boat. You can do it with cheap hardware store wood, and it'd be a waste to use anything nicer (the bottom of the hull is a bent 4x8 sheet of plywood). Everything above the waterline is free-form, and people often make elaborate variations. All plans are free.
YouTube has a ton of videos of people building boats (like this SCAMP), but my favorite is this project to rebuild a 110 year old sailboat. It's far more ambitious of a project than I'd ever want to take on, but I find it fascinating. The same guy previously rebuilt an elegant little Scandinavian folk boat called Lorema, and that I could see myself do.